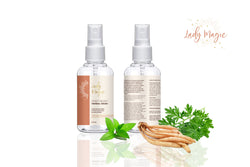 The Little Flower
Lady Magic Sweet Relief! Herbal Wash
This formula has no added fragrance and is based on classical and modern Chinese and Ayurvedic Herbal topical formulas for treating Damp conditions of the skin and mucus membranes, with or without heat. 
It can be used neat on the skin or diluted and applied as a compress or douche.
4oz spray bottle
Ingredients: Artemisia annua folium (yin chen hao), Artemisia argyii folium (ai ye), Asperagus racemosus radix (shatavari)*, Atractylodes radix (cang zhu), Azadiracta nimba folium (neem)*, Cnidium semen (she chuang zi), Dictamus cortex (bai xian pi), Kochia semen (di fu zi), Glycyrrhizae radix (gan cao), Lonicera flos (jin yin hua)*, Mentha haplocalyx (bo he), Phellodendron cortex (huang bai)*, Scutellaria baicalensis radix (huang qin)*, Sophora flavescens radix (ku shen), distilled water, potassium sorbate (as a preservative)**.
*Organic Ingredients
**Potassium sorbate: The Environmental Working Group (EWG) rates this preservative as quite safe, even for internal/food use.
While allergies are rare, we highly recommend that users do a test patch on their inner wrist or elbow before applying to a larger area of skin or mucus membrane.